Positive Training for Positive Results
Waggin' Trains is a professional dog obedience training company in Clearfield. We provide services for, obedience training, behavior modification, potty training, and puppy consulting. Our canine instructors are certified experts that focus on correcting behavioral concerns without the usage of scare tactics, pain, or intimidation so that animals can have fun with the learning experience and preserve their practical knowledge. Reserve an appointment request online or give us a call at (814) 765-0123 with any concerns.
To learn more about the training classes offered at Waggin' Trains, click on the button below.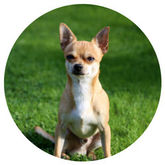 Puppy Training
Signing up in pup courses before three months of age can be an outstanding ways of boosting training, enhancing the human-animal bond, and mingling pups in an environment where danger of ailment can be minimized. In general, puppies can begin puppy socialization classes as early as 7-8 weeks old. Young puppy socialization classes supply a safe and also orderly means of mingling puppies and also quicker boost their responsiveness to requests. Early and also sufficient pup socializing and also programs of positive dog training can go a long way to preventing habits troubles as well as enhancing bonding between people and dogs. While the very first three months is one of the most essential puppy socialization duration in a young puppy's life, proprietors of young puppies that have actually passed this turning point are strongly urged to continue to socialize their puppies to as lots of people, pet dogs, and locations as useful.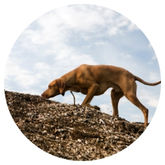 K9 Nose Work Training
K9 Nosework is an task that allows your pet dog to utilize their all-natural wish to hunt. It harnesses a pet dog's special ability to discover the aroma and establish the source. In training, dogs discover to find among three fragrances almost anywhere you can conceal it. Over the course of the training, the canines start to associate that odor pays. And practice makes perfect. After numerous rounds of these very enjoyable video games, you'll inevitably move past boxes or containers as well as reach even more tough obstacles.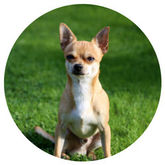 House Breaking & Potty Training
House training your pup is about uniformity, persistence, and also favorable support. The goal is to instill excellent routines and build a loving bond with your animal.
Specialists suggest that you begin house training your puppy when they are in between 12 weeks and 16 weeks old. At that point, they have sufficient control of their bladder and bowel movements to learn to hold it. With Waggin' Trains's expertise, we offer you the tools as well as techniques to ideal home train your new furever friend.

Behavior Modification
Here at Waggin' Trains, we specialize in dog behavior modification. Canine behavior modification is where we change existing pet habits. This includes but is not restricted to training in or customizing leash etiquette, chewing, dog resource securing, barking, separation stress and anxiety, chain lunging, chain aggressiveness, dog-on-dog aggression, as well as pet to human aggression.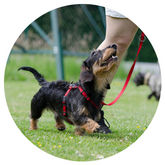 Beginner Training
Beginner training for pet dogs is important. Pet dogs aim to please, so with these beginner methods as well as techniques, they will supply your pet dog's chances to make you delighted. Our programs begin with the traditional sit, stay and come. However as your dog advances, we offer extra tough demands that are supplied in our various other courses! These are developed to maintain your pet dog involved and on their toes.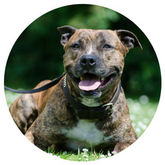 Aggression Training
We educate to correct hostility and other unsafe behaviors such as region aggression, are afraid aggression, food guarding and begging, whimpering, sobbing, and submissing urination. We make certain your pet dog remains in a safe setting to make them feel comfy while learning their new abilities.

Come visit our pet supply store in Clearfield, PA specializing in quality food, treats, and supplies for cats and dogs.